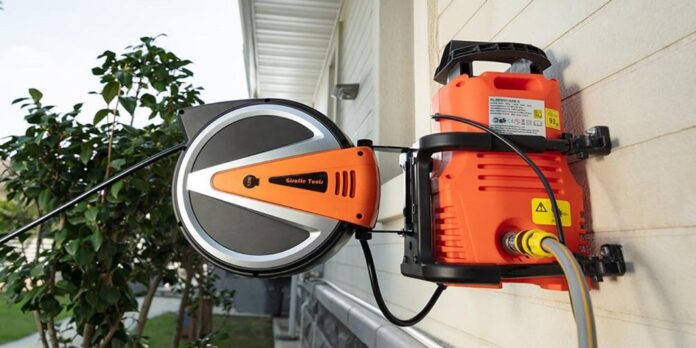 If you have entered here, that means only one thing: you need a 2 in 1 Pressure Washer. Don't worry, we just want to talk to you about that, but on time about one of the best models that have recently hit the market. It is the PWUS model from Giraffe Tools.
Giraffe Tools is a manufacturing company known for making the highest quality pressure washers with finishes that few brands have. The 2-in-1 PWUS Pressure Washer is no exception, and this machine provides power and portability at an unbeatable price.
Stay with us to learn more about this product!
2 in 1 Pressure Washer
The PWUS is a helpful tool for leaving dirty and unkempt spaces in decorative and recreational areas. Of course, the average user only cares that the product works when buying it, but the excellent buyer is interested in knowing the smallest detail.
For the above reason, knowing that you are an avid buyer, we decided to show you the most outstanding features of this model.
Motor
We start with the most important thing, the motor, on this depends on the pressure capacity of the pressure washer and its useful life. The 2-in-1 PWUS model has a German-made engine with a power of 10AMP, which translates into a maximum pressure of 1600 (PSI). Enough power to clean lawns, cars, fences, and sidewalks.
The voltage that this motor needs to run is 120 with 60Hz.
G-Self-Layering system
Its internal ceramic system allows the useful life of this 2 in 1 pressure washer to last longer than conventional pressure washers. Compared to one without this technology, the PWUS lasts up to 400% longer.
Protection system
Propulsion of water at 1600 PSI (the maximum for this model) can cause damage in certain areas and pain in humans in case of accidents. The good news is that the 2 in 1 Pressure Washer from Giraffe Tools has a protection system (TTS) that stops the flow of water when the gun trigger is being pressed.
Swivel bracket
We come to the flexible part of the product; this pressure washer is 2 in 1 because it has the possibility of mounting on a wall base and at the same time being used away from that base.
If you use the Swivel Bracket, you will find that it is incredibly stable and with a cable with a length of 40ft, to work in any space of your home.
Along with the previous characteristics, this model has a 4-mode nozzle interchangeable at any time and in a simple way. You are the one who manages how the water comes out of the pressure washer gun.
Benefits of the 2 in 1 Pressure Washer
With this pressure washer, you can do all the tasks in your home or take it with you wherever you go with its two modes of use. In addition, its four nozzles help to carry out all kinds of work in wide and narrow spaces.
The German engine is impeccable, and we cannot forget how fascinating these product designs are that only Giraffe Tools can do.