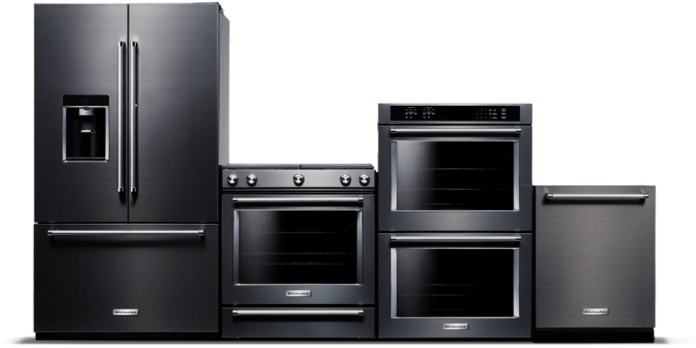 Kitchen is the most important part of the house which includes many large appliances. In today's world, fridge, freezer, dispenser, oven have become necessary items for a typical kitchen. Stove with cooking range is another large appliance used in the kitchens. Other appliances, like toaster, sandwich maker, electric kettle, juicer, blender and grinder are small, yet very useful in kitchens. Dishwasher is a very important appliance, which is recently introduced in modern world. All the large appliances have very fundamental roles in kitchen and assist us in our daily life.
How have these large appliances eased our lives?
Kitchen items include a variety of food that needs to be stored at the end of the day.  Fridge helps to store food and provides low temperature which keeps the food items from spoiling. Refrigerators provide clean environment that prevents the attack of bacteria on the food. Deep freezers are used for storing food for longer periods of time. Dispenser is used to purify water and to adjust its temperature according to the need. Stove is the most important part of the kitchen, all food items are cooked on stove. No one can consider kitchen a complete place without these large, major appliances. Microwave ovens are used to refresh and warm the food. Heating effect kills bacteria and absorbs moisture from the food. Cooking range is mostly used for baking purposes.
Are large appliances heavy on the pocket?
Large appliances are expensive due to their heavy infrastructure and smart functions. These appliances are considered as assets or one time investments, as they are durable and useful. Once you buy these appliances, they will keep on working for years, but, they may require maintenance costs at intervals. Their efficiency is maintained by low repair and maintenance costs.
Furthermore, these appliances use electricity or gas for working. This may increase total unit expenses and eventually your electricity bill.
Secondary large appliances
Other large appliances like UPS, generator, stabilizer are used for the working of main kitchen appliances. These secondary appliances enhance the working capacity of main appliances during the shortage of electricity.
Disadvantages of large appliances:
Large appliances have provided us with a lot of benefits, whereas, there are some disadvantages too:
These appliances occupy a lot of available space in the kitchen.
We have become so dependent on these kind of devices.
These electrical appliances emit harmful radiations which are usually ignored.
These are expensive and increase the electricity bill expenditure too.
Conclusion:
Some people use air conditioners in their kitchens and others prefer exhaust hoods. These appliances lessen the heat produced in the kitchen due to cooking and heating effects of other large appliances. All large appliances work in coordination to maintain the kitchen. You can buy these appliances from electrical appliances stores. The stores offer discounts to their customers on heavy purchasing. In addition, stores provide different kinds of guarantees of the large appliances and accept the returns. Though some appliances are now available online, but it is always preferable to check the quality physically before purchasing.