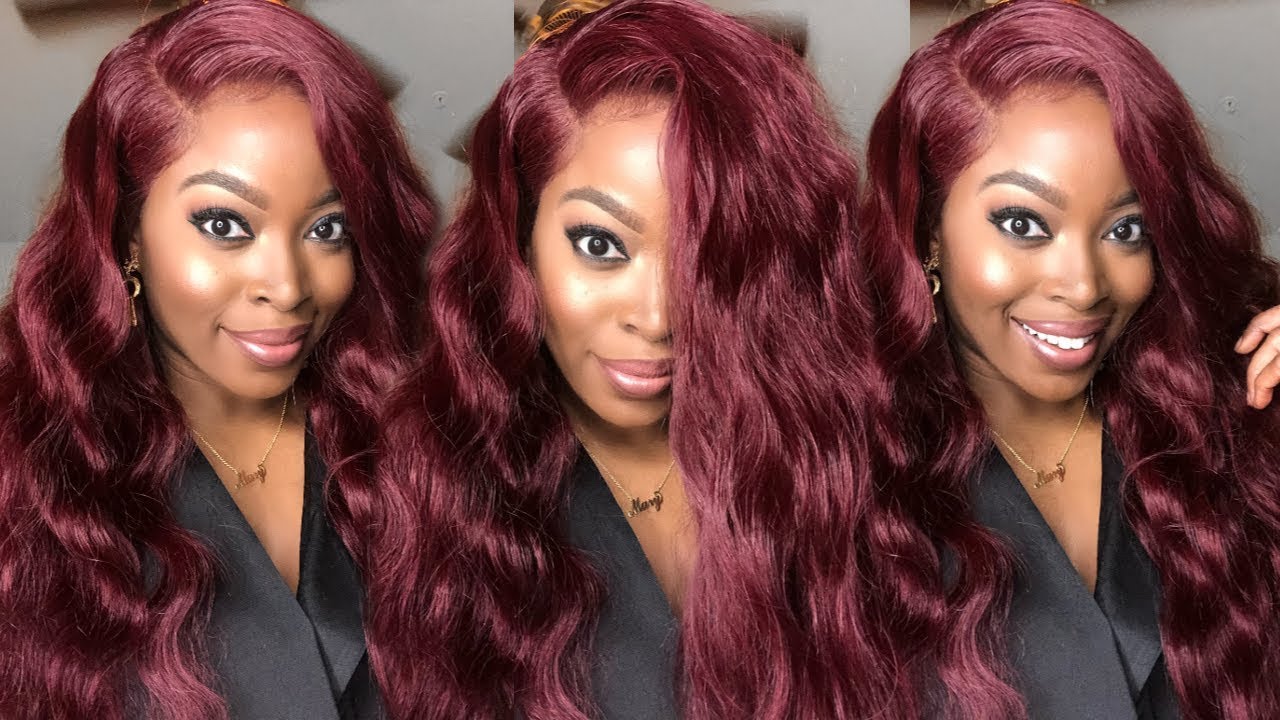 Initially, wigs were made in general black and brown colors, in line with the famous natural hair colors. However, in recent times, due to technological advancements and client requests, wigs now exist in many colors. One of the wig colors experiencing exponential growth across the wig industry is the burgundy wig color. 
A burgundy wig calls out the attention of every onlooker, and when they look, they can't but admire. If you want a burgundy wig so bad, you can easily buy it from a trusted online store. But if you're built for adventures, you may want to try dyeing your wig into a burgundy color. 
Before we go into the process of dyeing your wig into burgundy, we'll advise you to get a cheaper wig option to try it out with first so you can get perfect. Likewise, if you have a synthetic wig, the chances are high that you'll have a hard time dyeing it, except you use acrylic paint. But if you have good human hair wigs, the process shouldn't be so hard. Here's a step by step guide to follow; 
Step 1: Find All You Need
The first and most crucial step to dying your human hair wigs to burgundy is to find the tools you need. Some of the materials necessary include;
The wig

The burgundy-colored dye

A hair developer 

Safety Gloves

Brush

A big container

Shampoo and conditioner

Water 

Towels and rags
If you have all or most of these materials listed above, then you're good to go. 
Step 2; Wear Your Safety Gloves
Like it or not, hair dyes are chemical compounds, and sometimes, they may react adversely when in contact with your skin. A safety glove made of rubber will protect your hands and still be comfortable for work. 
Step 3: Mix Your Dye with a developer
Firstly, understand the instructions on the hair dye carefully. You will need to follow the exact instructions on the amount of paint to mix with the developer. For the developer specification, a volume of 20 will do just fine – for a darker shade; you can try a developer of volume 30. According to the instructions on the burgundy dye, mix the dye and developer in a wide container 
Step 4: Test Dye
Sometimes, your dye may look light after mixing, and you're not so sure. The best way to know is to test the dye on the hair. You can do this by dipping a brush into the dye and trying it on a section of the wig. 
Step 5: Dip Wig into Dye
Once you have your desired burgundy color, you can carefully immerse the wig fully into the mix of dye and developer. During this immersion, you can spread the dye evenly on the human hair wig with your hands. 
Step 6: Brush through wig carefully
After the burgundy color is even, you can use a comb or your hands to brush the wig carefully. That way, you're sure the dye will circulate. The brushing process may be messy, so you may need towels to protect your workspace. 
Step 7: Allow Wig to Dry with Dye
After the whole process, you should have your burgundy wig staring right at your face. The next step is to allow the burgundy wig to dry appropriately before washing with a shampoo and treat it with a hair conditioner.
Conclusion
If you've carefully followed the process above, you can boldly call yourself an expert at dying human hair wigs into burgundy wigs. You can use this process to dye your hair to any color. But ensure the color you're dying to is a darker shade to protect the hair.